RSPB is the largest wildlife conservation charity in Europe with over a million members across the UK. RSPB Scotland Campaigns and Communications Officer, Lottie van Grieken, talks about why we must put nature at the heart of Scotland's upcoming Agriculture Bill.
Farmers and crofters manage three quarters of Scotland's land, and the Scottish Government spends over half a billion pounds per year on farm funding. Yet less than 10% of current public funding is spent on farm schemes which encourage nature and climate friendly farming methods. The opportunity to change this is why RSPB Scotland supports the Farm for Scotland's Future campaign.
The current farming system is built from outdated policy which focused primarily on food production, originating from a need for greater production after WWII. This focus changed the way we used our land – hedgerows were removed, wetlands were drained, and pesticide use increased. We've seen a huge loss of farmland habitats, and pollinating insects, farmland birds and other species declining as a result. In fact, curlew, lapwing and kestrel populations decreased by at least 60% between 1995 and 2020, and pollinating insect populations have plummeted. The overall picture of farmland nature is one of gradual, consistent decline.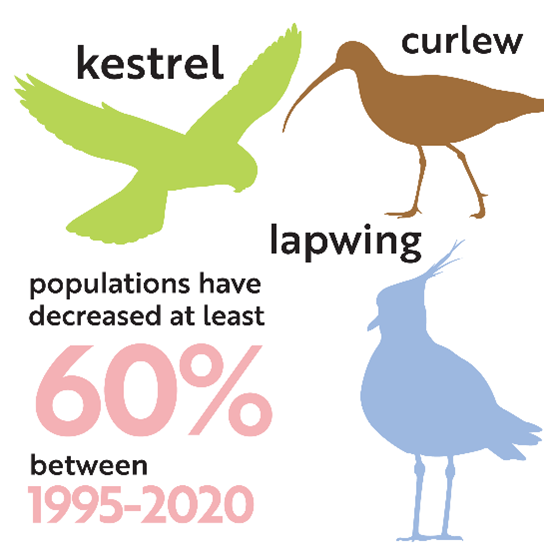 We needed to increase food production after WWII, and we continue to need to produce food now. Doing so at the expense of our environment though, is the wrong approach. This has far-reaching consequences, not least in undermining farming and food production itself which ultimately depend on nature and a stable climate. Nature is essential to food security.
Scotland, where our cultural heritage is intertwined with amazing landscapes and unique wildlife, is 28th from the bottom on the Biodiversity Intactness Index, reflecting the historic loss of nature and meaning we are one of the most nature-depleted countries in the world. As the majority of Scotland's land is farmed, agriculture has a significant impact on wildlife and the habitats that it relies upon. Farming is also the second largest source of greenhouse gas emissions in Scotland, contributing to almost 19% of all Scottish emissions.
Despite this, nature loss and harmful emissions are not the fault of farmers and crofters, but rather the result of an outdated subsidy system which has side-lined the environment. The decisions farmers and crofters make on their land are influenced by farming policy and funding systems. Many farmers and crofters are already demonstrating the success of nature friendly farming, but we want to see this become the norm and for farmers and crofters to reap the rewards of nature's recovery, increased rural jobs and more sustainable food security.
This Autumn, we expect to see a new Agriculture Bill move through the Scottish Parliament. This Bill is a rare and vital, once in a generation, opportunity to change the system to put nature at the heart of our farming practices.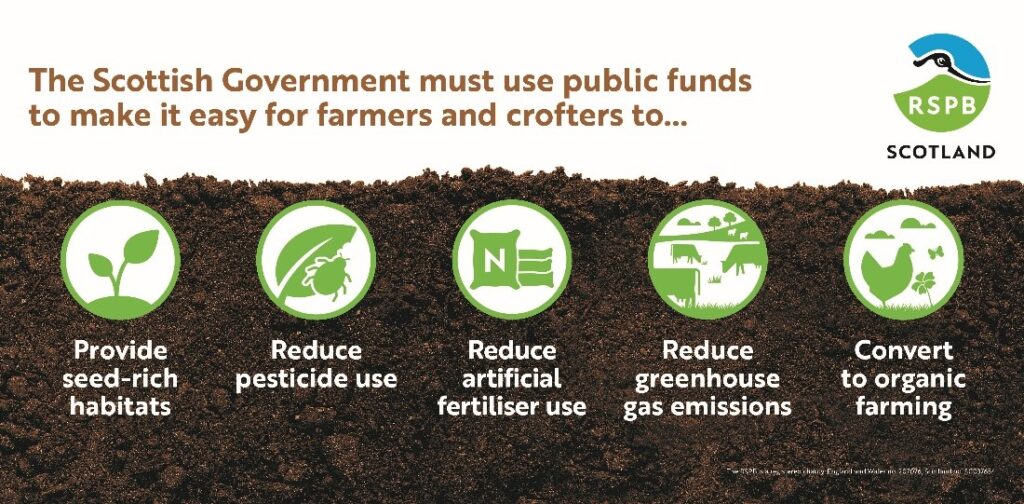 RSPB's core mission is to protect and restore nature. We work actively with hundreds of farmers, crofters and landowners across Scotland through advisory work and conservation projects. There is no doubt that there is no farming without nature – farming depends on it. We are calling for the approximately £600 million annual spend on agricultural subsidies to be redirected to better support nature friendly farming.
Farmers and crofters are a critical part of the solutions to tackle climate change, and to protect and restore nature. Many are already taking vital steps to farm in nature friendly ways. Changing the way that the farming funding system operates, and putting nature at its heart, will help to save nature and climate. That's why we are part of the Farm for Scotland's Future campaign, joining with other environmental, food and farming organisations. With your help we can ensure MSPs know that people across Scotland care about nature friendly farming.
Disclaimer: The opinions expressed in this blog are the author's and do not necessarily represent the views of all the organisations backing the Farm for Scotland's Future campaign.