By Diana Garduño Jiménez, Food Justice Project Officer, Nourish Scotland
The Agriculture Bill is set to bring big changes in how we farm. At a technical level the changes might look like: decreasing the use of fertilisers, increasing cover crops or implementing regenerative grazing. But behind the implementation of any of these practices, there's people.
While financial support for food producers in the transition is critical, support for farmers to meet, learn from each other, share advice and work in partnership, is just as essential. We need peer-to-peer knowledge exchange that supports farmers to try out new things.
In this past year, Nourish Scotland, the Landworkers' Alliance, Nature Friendly Farming Network, Propagate, Pasture for Life and Soil Association ran a peer-to-peer knowledge exchange programme: Agroecology: Enabling the Transition. The programme's focus was on agroecology. This way of farming accounts for all the socio-economic-environmental systems involved, aiming to keep healthy relationships within and between them.
We set up six small groups of farmers, crofters, and growers in different Scottish regions. Each partner organisation facilitated one of the groups. These groups visited each other's farms, crofts, and market gardens. They went on farm walks, attended webinars, were part of WhatsApp groups, and shared meals.
So, this was not your standard knowledge exchange programme. It was especially not the hierarchical kind, where people are expected to sit down for hours and listen to 'experts' go on…and on…and on.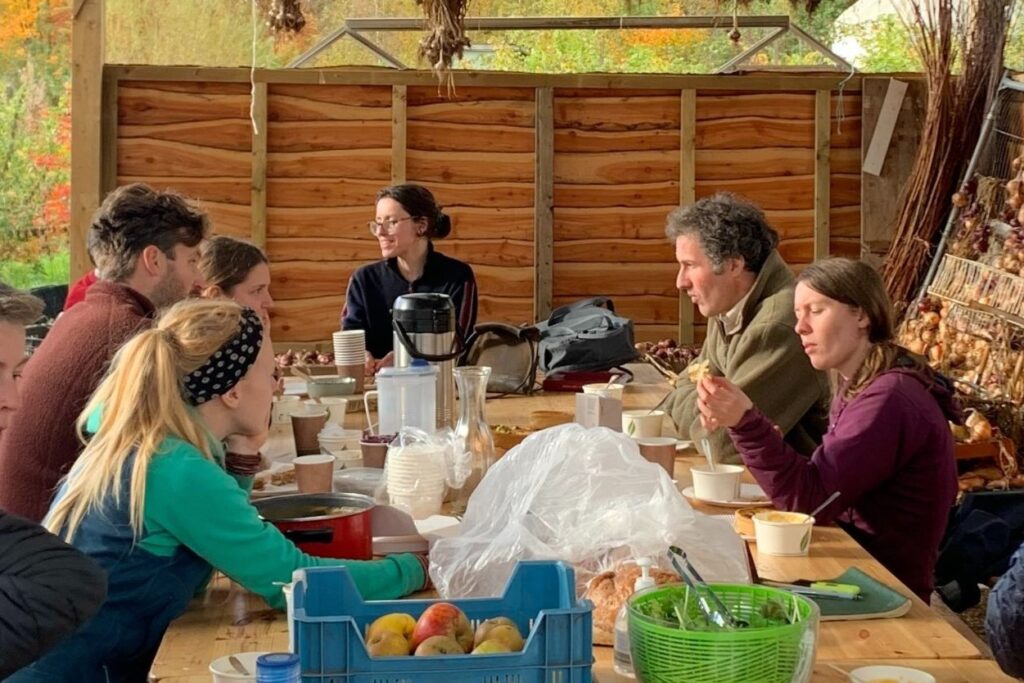 Market gardening group visits Tomna'ha © Nourish Scotland
Through the programme we learned that knowledge exchange needs to create spaces where:
Everyone has something to share and something to learn.
Many of the visits were to group members' own crofts or farms. Hosting others in a way that was friendly, social, and relaxed gave way to knowledge exchange. As we walked around farms the host would tell us about their farming practices. This could include anything from the use of trees to create shelter belts, to different approaches to composting. As we walked around, people would ask for more details on the methods used, sometimes suggesting alternatives or giving advice. As a group member said:
"It's nice to show off what you are doing, even if it's early days. You can get feedback from others and see whether everyone thinks what you are doing is good or whether they have other ideas. It's a great opportunity".
New entrants and veterans are involved.
This gives people who are new the opportunity to ask questions and get reassurance. For those who have been practising for longer, this can give them the opportunity to compare practices and share their knowledge. This intergenerational mixing can be key to changing practices:
"When you are the new one, people can look at you strangely. But others might want to learn more about why you are doing things differently. They might end up changing their practice!"
People feel supported and part of a network.
It's scary to try things out on your own. But knowing that there are others out there who want to hear about your journey can make it that bit easier:
"Within the group it's nice to have a space to say: "I'm trying mob-grazing". It's hard to put yourself out there, especially early on because you don't know if it works. So, it's nice to have the WhatsApp group to share things on a small scale."
And can give you energy to keep going:
"The best thing about taking part was meeting people, learning from them and exchanging ideas. Above all, given hope and energy that change can happen."
There's an opportunity to get to know each other as people.
There can be anxieties about what being a 'proper farmer' means, or feeling judged by others who farm in different ways. Yet, when you have lunch together and learn that Lucy spends her holidays in cycling competitions, Mark is getting married in a couple of months, and Jaques is here learning from market gardeners before they start their own, the anxieties can fade away.
This can lead to opportunities for collaboration. As Pasture-Poultry group members said to a Biodiversity and Profitability group member:
"If you ever feel like experimenting with a new crop and it doesn't work out, we would be more than happy to take that from you. We would give it to our chickens."
Or as another farmer reflected:
"We focus on each other's negatives instead of what we each do well. We could signpost customers to each other, tell them: "if you are interested in carbon reduction go with Greg…. or if you are interested in biodiversity and organics go to Saoirse."
Ultimately, we focused on building trust.
Working in the agricultural sector is often lonely and precarious, taking a toll on producers' mental health. As the policy context changes, food producers are being asked to manage increasing uncertainty. Knowledge-exchange groups can provide a valuable space for members to become aware, discuss, and understand policy changes. But crucially where people can feel inspired, safe, and supported to take risks by trying new practices with other people.
Peer-to-peer farmer-led knowledge exchange is critical for the transition to sustainable and regenerative farming in Scotland. It is something that we cannot afford to stop doing.
We are hoping to continue this project. If you are a farmer, crofter or grower in Scotland and would like to be involved please complete this form.
Disclaimer: The opinions expressed in this blog are the author's and do not necessarily represent the views of all the organisations backing the Farm for Scotland's Future campaign.